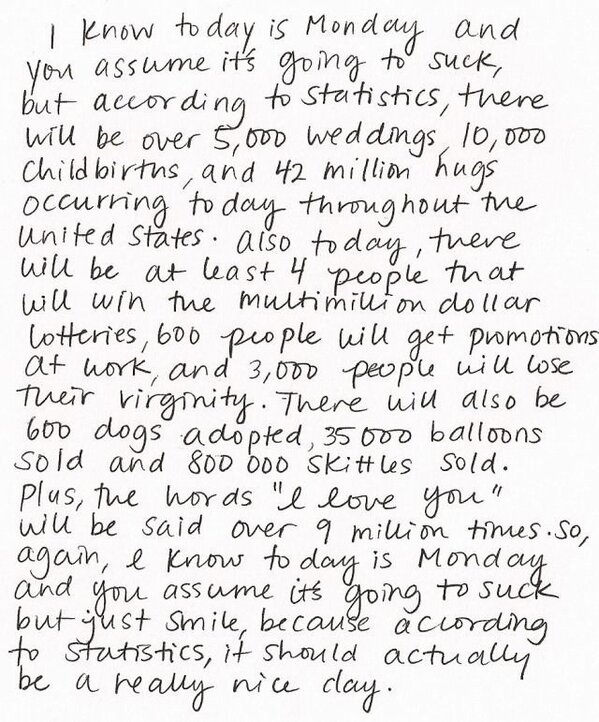 Tom Fletcher's wedding speech
- This is just adorable (and has set the bar for my future-husbands wedding speech very high). With his talent in singing and song-writing, Tom chose to go down a different route when going about the challenge of the grooms speech...
The Science of Happiness - An Experiment in Gratitude
- This is a light-hearted, yet factual, video which demonstrates the theory that is 'gratitude increases happiness', well worth a watch.
That's What She Said - Perception and Confidence
- Another moving 'Soul Pancake' video here, showcasing simply a group of women, all of different race/age/appearance, sat around a table, discussing their ideas, experiences and beliefs on perception and confidence.
A Pep Talk from Kid President to You
- I LOVE Kid President. I have shared his videos with family, friends and teachers. He is an incredibly smart, charismatic and kind-hearted 11 year old. All of his videos are truly inspirational and guaranteed to light up your day. The one linked is probably my favourite but that is definitely tied with his 'Letter to a Person on their First Day Here'.
Instructions for a bad day, Shane Koyczan
- This powerful poem is a spoken word for if you're feeling the so-called 'monday blues'. A bit intense, I admit, but well worth it to make you appreciate life and let go of whatever's dragging you down.